What is the Difference Between Natural and Regular Meat Products?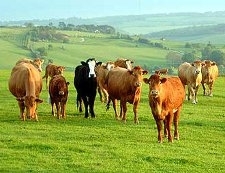 This is a short and sweet blog post for those who were wonder what the difference was between "Natural" and "Regular" meat.  It's pretty straightforward actually.
Regular meat is the same meat you buy in the grocery store.  It is safe for human consumption but it can contain hormones, animal by-products, and antibiotics.  We use regular meat in some of our product lines which means that your pets are eating meat that is as safe and healthy as the meat that you buy at your local supermarket.
On the other hand, "Natural" meat contains no hormones, animal by-products, or antibiotics.  It is the healthiest meat product you can buy.  Some of our most popular products are of the Natural variety because of the health benefits realized by the pets that are fed Natural meat.  If you would like to learn more about Raw, regular, or Natural meat, please visit one of our local raw pet food retailers.